About Us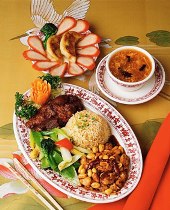 Valley Wok Chinese Restaurant
Conveniently located in at the corner of Long Road and Chesterfield Airport Road, Valley Wok has becomes one of the most popular Chinese Restaurants in Chesterfield, Wildwood, and Clarkson Valley area. Thank you for all the support from our precious and loyal customers.
Since 1998, Valley Wok has been serving Mandarin cuisine, Hunan and Szechwan dishes, as well as classic Cantonese food. Our renowned chef has created a Healthy & Diet Menu that is specially designed for Health-Conscious Diners. These dishes are steamed without oil, no cornstach, no salt, so sugar, and with choices of chef specialty sauces for dipping. You can also found a big noodle section on our menu that includes Pan Fried Noodles, Lo Mein (Soft Noodle), Chow Mein (Crispy Noodle), Mei Fun (Rice Noodle), and Ho Fun (Flat Noodle), and we even have a secret menu of Chinese authentic noodle. If that's not enough, our Valley Chicken and Valley Beef will certainly amaze you because thousands and thousands of customers are ordering that repeatedly.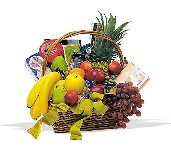 In Valley Wok, we provide a complete line of services that include a very efficient carryout service, a very fast delivery service, a very comfortable dine in section, and a very affordable catering service. There are a plenty of parking in here, so come and visit us. We are looking forward to seeing you.
Valley Wok
Address:
125 B Long Road
 
Chesterfield, MO 63005
Tel:
636-530-1868
Email:
info@ValleyWokSTL.com
Website
http://www.valleywokstl.com/

Business Hours
Mon - Thurs:
10:30am - 09:30pm
Fri - Sat:
10:30am - 10:00pm
Sunday:
Closed
 
 

Gift Certificate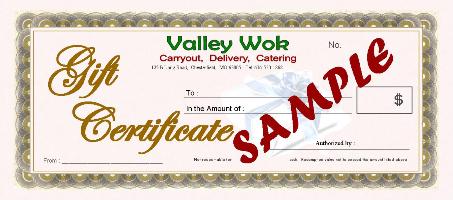 Powered by

Dodtech